Paterno'

20 Km. da Catania
Abitanti: (Paternesi)
Altitudine - 225 metri s.l.m.
Festa patronale - S. Barbara 4 Dicembre
Frazioni e Localita' - Sferro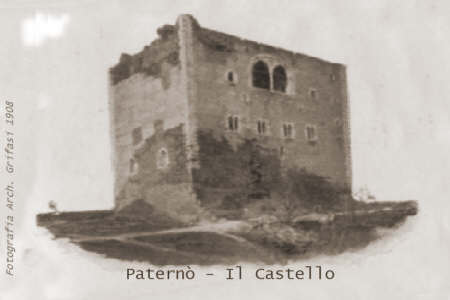 Paterno'
Il Castello nel 1908

---

La tradizione racconta che il Conte Ruggero l'abbia fatto costruire nel 1073. Quello che si ammira in tutta la sua mole dominante la Città, è opera della fine del '300. L'interno è ben conservato con belle sale e finestre bifore, e vi si notano ancora tracce di decorazioni con stucchi policromi.

The Casle in 1908

---

The tradition tells that the Count Ruggero built it in 1073.
From its dominant position over the city, buildings from the end of the ' 300 can be seen. The inside is very conserved with beautiful rooms and double lancet windows, and traces of decorations are still there with polychrome putties.
Site colours design by Grifasi Studio ® ~ Milano ~ Italy

This page was last updated on November 11, 2001
- E' vietata la riproduzione anche parziale di qualsiasi tipo di informazione contenuta in questa pagina, senza segnalarne la provenienza -
- Any form of whole or partial reproduction, of texts, photos, illustrations is generally not permitted, with the exception of any with an expressed permission -